The Rich Also Cry
Stockholm. She slowly comes into view, walking down the stairs with impeccably slicked-back, black hair, wearing a red velvet dress. She excuses herself preemptively, saying she has a cocktail party/meeting afterwards. Whether it is by expansion or by projection, something about Carla Garlaschi has been changing. Her participation in the SIART IX Biennial of Contemporary Art Bolivia, a recent exhibition at the Museum of Contemporary Art Chile, and her ongoing work on a Romance novel, all seem to have given her the gaze of a bronze statue. Exposed or hidden. Were you merely an uninitiated reader of her work, you might be fooled by the colorful pop-appeal. Smugly you might use words such as "improvised, spontaneous, intuitive." But I'm sorry to burst your bubble. You better beware, and realize how suspiciously vague you sound. Just one more naïve prey to poke fun at. Here, Dog Philosophers, Kierkegaard, Sophie Calle, Chris Krauss, James Bond villains and Latin Lovers loop in an endless soap opera, while I keep asking myself the same question that crossed my head two years ago when I first interviewed her ¿who dwells within an artist?
Lars Bännegård: In what ways do you think your work changes based on biography, I mean, I wanted to say: geography?
Carla Garlaschi: I would love to be like Dr. Oblivion, you know, this character in Videodrome that just appears on TV, and even if he gets invited to talk shows they have to install a TV with him speaking to have him on stage. But back to your question, it amuses me that you start out with a mistake. Errors are undervalued nowadays. Then of course biography changes depending on geography, but it also changes according to the people you are surrounded by. Mostly, I think, everything is narrative. I am thinking of something the poet/artist Raúl Zurita said, something like: if one thinks of the life of an artist as a path, then the artist's works are the road signs. I mean, the point is that what's not said seems equally revealing, everything an artwork is supposedly not about. Like, when reading literature, you come to a point when you are able to feel the presence of something that is not explained or written, something that wasn't named, perhaps a bit like humor works.
LB: Do you think of Peter McGraw's Theory of the Benign Violation, which says that humor occurs when something seems wrong, does not fit or is threatening but simultaneously seems to be acceptable or safe?
CG: Probably, but I'm interested in finding out to what extreme you can go in packaging things pleasingly, so that they will be accepted, be it proselytism or urban conscious behavior campaigns. How can a format affect these negotiations?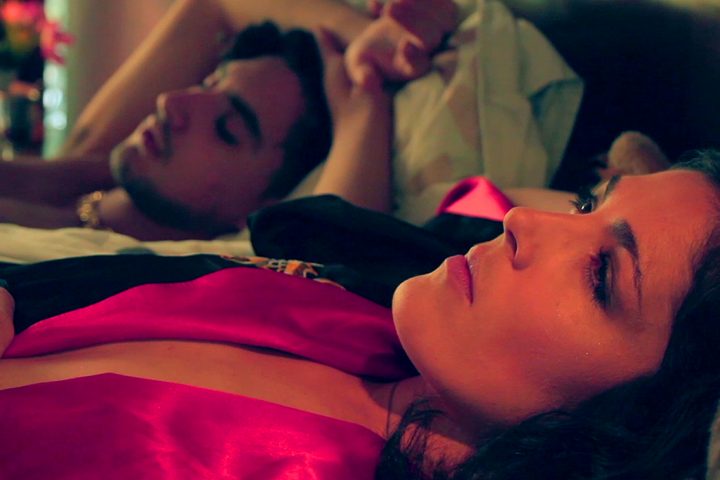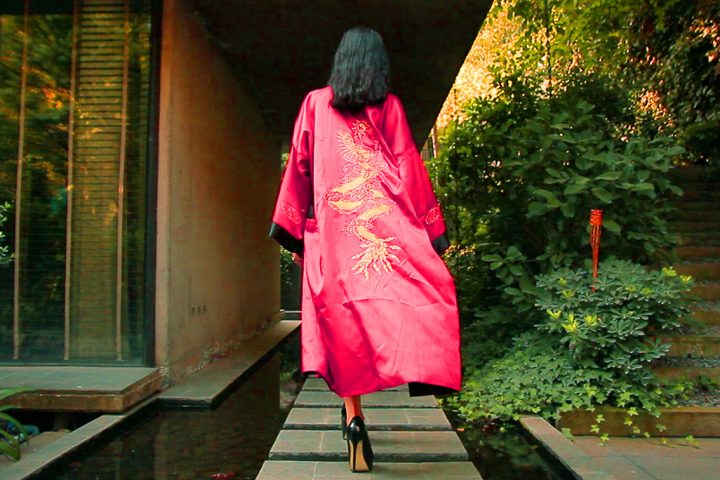 LB: At the same time, negotiations can change according to nationality. You have Italian, Swedish and Chilean citizenship. I mean, let me think: you get out form Chile with a Chilean passport and then enter Europe with Swedish or Italian passport, which means you don't get any stamp on them, so on paper you basically never travel.
CG: In fact I do get a stamp on my Chilean pass every time I come in and out of Chile. So in their eyes it looks like I'm spending very long periods of time anywhere or nowhere beyond the International Police control, a sort of non-place.
LB: Seems like the ideal space to work. But after the non-place, beyond the gate, what role does nationality plays in your work?
CG: Look (takes a sip of her Aperol Spritz, gears up the make a confession) I'll have to answer from the stomach. A couple of years ago I was invited to a conference given by the Chilean President Michelle Bachelet in Madrid. This was the scenario: a folk author played, a lousy pop singer did her thing too. We were about 150 people in the auditorium. I sat far from the scenario with a premonitory feeling of despair. It was like being abducted. All that happened there could have been said to be a low budget display of a 'fantasy of country [1],' as shocking as the Anglican Church's love bombing [2]. Why I'm bringing this up is because "performatively speaking" (she does that quotation mark gesture with the hands) I think of nationality to be fairly related to the fiction of a country's political propaganda. To give you a European example, Franco was the one who made the Sevillanas and Flamenco famous as "the Spanish thing" (insisting on the quotation mark gesture). These definitions are created in contrast, in relation to the view of a foreign body or country, in relation to the other. Then back to America -the continent not the country- it's also very interesting that the term "Latin American" (she almost did the gesture again) was coined by, if you'll excuse the repetition, a Latin American philosopher-politician Francisco Bilbao in Paris 1856 to define the Iberian, Romance language region of the Americas. This means the word is used from the beginning to mention a region from a distance. Does it still count as self-definition, maybe?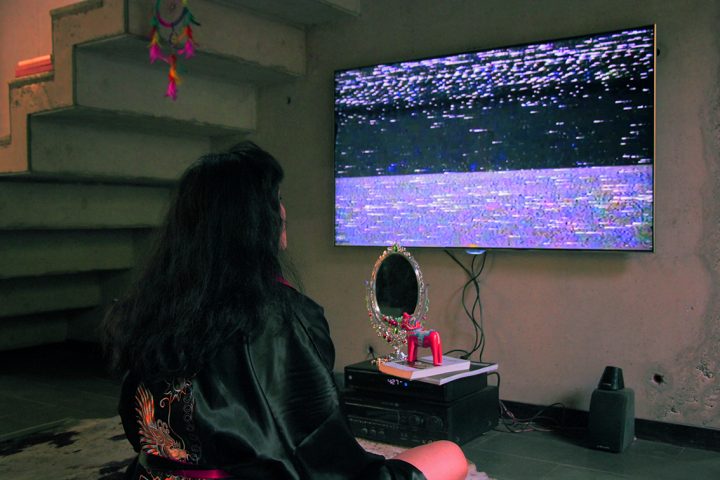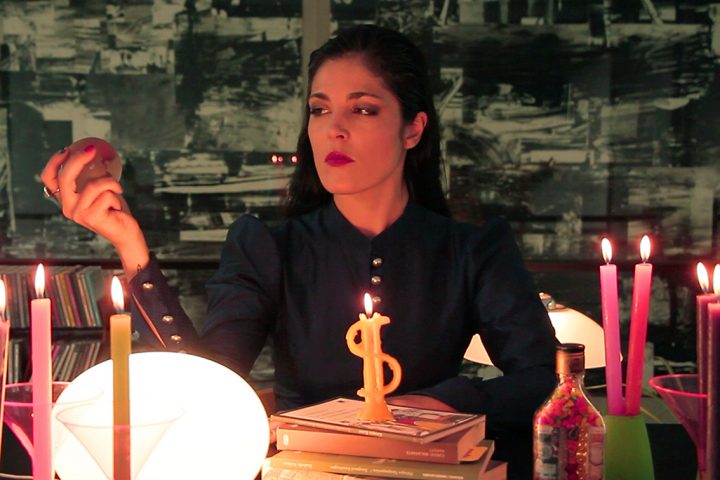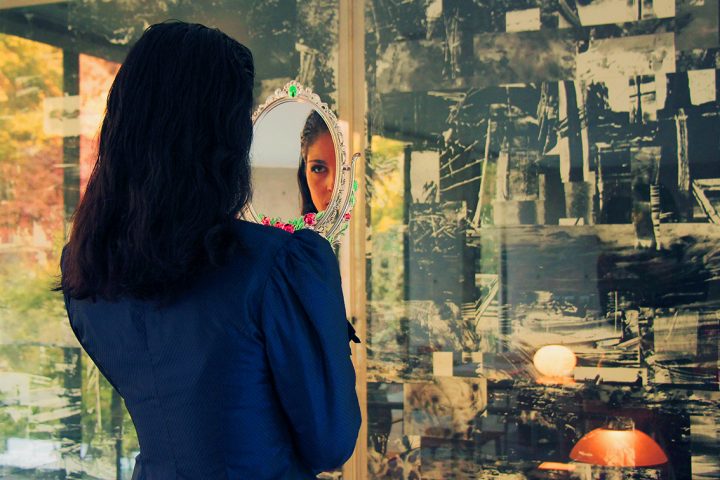 LB: It's intriguing because while you mention that, I see you weaving the flag of one or another country according to convenience, whether you're seeking funding, theoretical framework, selling your work…
CG: (Interrupting) But…
LB: (Interrupting) Let me just finish my idea. I've also noticed in your work your change of character according to nationality, in that sense you would be self-parodying your own nationalities. As if you were treating these nationalities like folk costumes for individual characters. This leaves me with a certain feeling of the absurd, as if inside the costume there might live a human with a non-nationality.
CG: (She takes her time, calculating) Well, I'm naked in my latest video, but I had to work that body for a couple of months, training, taking Beta-Cret [3] and drinking protein shakes, I guess for you that would still count as a costume. Then, isn't your question extra-flavored with utopia or science fiction? Hum… flavor designers (she writes down an undecipherable note) I say; why do I, as an artist, have to take care of my biography and my geographical positioning when a local artist will never be asked for that? Although, now, things in Europe are heating up with immigration, and there's some urgent desire for glocalness… this kind of artist-in-residence artwork, I'm very suspicious of that kind of production, one as to be careful to not drown in what you are expected to do. In Scandinavia, you as a Swede, can wonder about other inquiries and thoughts that have more to do with being, philosophy, existence, you are allowed to talk about a macro focus. Instead I find myself in a straightjacket. This is why it makes more sense to me to speak of language and think of different languages almost as if they were plastic materials. Sometimes I think more easily in English.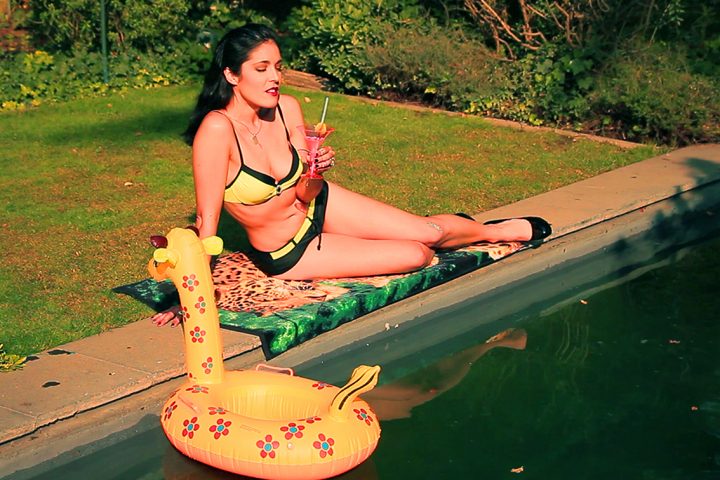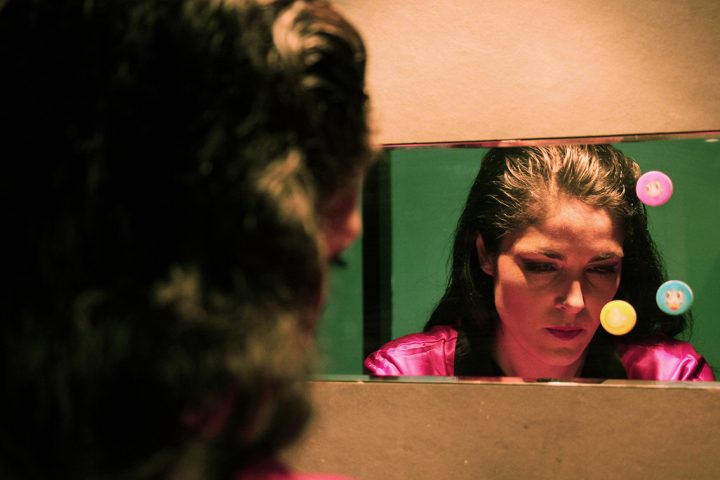 LB: International Artist English [4]?
CG: (Laughs) Hum… I'm way too obsessive with details to do the e-flux English, but International Disco Latin [5], yes! And you know, in the Aymara language there are no words for contemporary art. It intrigues me thinking that there are perhaps other ways to define what an artist does if you have to look for new vocabulary. Like love, it is a concept with a wide range of nuances, I mean, it is something intimate, yet defined by culture, but at the same time it is commonly said to be universal language per se.
LB: Something in you has changed. What's going on?
CG: Is this your gossip question? I love risk. It's all I have.
She casts a look at the city, with a sort of affected pose as if she was still on video. She takes her purse and her newly bought computer, says goodbye with a smile and a handshake. I hear the tinkling sound of jewelry. I forgot to ask her about the The-Lord-of-the-Flies-style ending of her last video, and about her hand gesture, nervously wiping the make up off her face.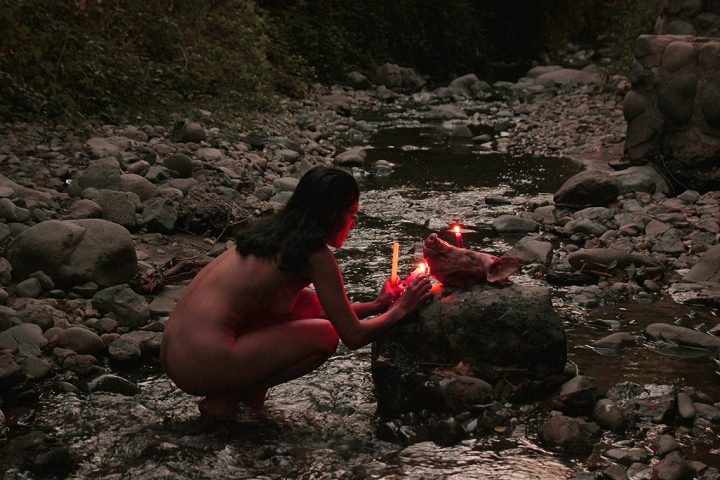 First edition. "Nationality or the Folklore of the Self" text commissioned by curators and editors Anna Baca, Daphne Carolus and Jovana Nedeljković for the publication "Checking the Box" of the Department of Culture and Aesthetics of Stockholm's University, 2016.
[1] Said in private conversation by curator Rodolfo Andaur.
[2] Critics of Cults use the phrase with the implication that the "love" is feigned and that the practice is psychological manipulation in order to create a feeling of unity within the group against a society perceived as hostile.
[3] Creatine is a nitrogenous organic acid that occurs naturally in vertebrates and helps to supply energy to all cells in the body, primarily muscle. It was identified in 1832 when Michel Eugène Chevreul isolated it from the basified water-extract of skeletal muscle. He later named the crystallized precipitate after the Greek word for meat, κρέας (kreas). Creatine itself can be used as an energy buffer in skeletal muscles and the brain. Apart from its pharmacological effects, creatine content (as a percentage of crude protein) can be used as an indicator of meat quality.
[4] "International Art English, or 'IAE,' is their [Alix Rule and David Levine] name for the decisively amateurish English language used in contemporary art press releases. In order to investigate IAE, Rule and Levine undertake a statistical inquiry into a set of such texts distributed by e-flux. They conclude that the texts are written in a skewed English full of grandiose and empty jargon often carelessly ripped from mistranslations of continental philosophy." Fragment of International Disco Latin, Hito Steyerl published by e-flux, 2013.
[5] International Disco Latin, Hito Steyerl published by e-flux, 2013. www.e-flux.com/journal/international-disco-latin/